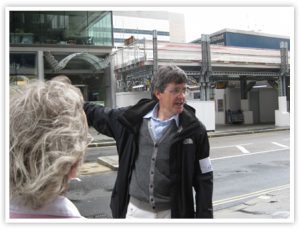 The following walks have been tried and tested over the last four years and we rotate them so there's always something to discover
1.DICKENS CITY
Meet outside Blackfriars underground Station Queen Victoria Street (Circle & District Line)
No previous knowledge is needed for this walk through Victorian City streets uncovering Charles Dickens's life and characters.
2.THE FLEET VALLEY
Meet Farringdon Station (Circle Hammersmith & City and  Metropolitan line)
Clerkenwell was a medieval suburb and has gone through many transformations. We uncover the river's course and the history of the area.
3.WAPPING
Meet Wapping Station (London Overground).
This was Sailor Town even before The London Docks came. We can't escape the river's influence on this historic quarter.
4.BLITZ
Meet St Pauls Underground by Cafe Nero . (Central Line)
A dozen stories with related sites telling the story of The City of London's experience in WW2
5.CIRCLING THE SQUARE MILE
Meet outside Museum of London or Tower Hill Station by Trinity Square Gardens (Circle & District line)
This walk follows the course of The Roman wall that defined London until The Great Fire. It's an eclectic walk but we do discover some remains.
6. SPITALFIELDS
Meet Liverpool Street Station Bishopsgate Exit at the top of the escalators by Cafe Nero. (Central, Circle, Hammersmith & City and Metropolitan Line)
Diversification is the theme as waves of incomers settled in this area. We hear about Huguenots, Irish, Jewish and Bangladeshi immigrants and how they have left their mark  on the area.
7.CITY OPEN SPACES
Meet St Pauls Underground station by Cafe Nero (Central Line)
The City Corporation boasts 200 Parks, Gardens, Churchyards & Piazza's.  This walks visits a selection with their anecdotes.
8. PEEPING THROUGH THE 17th CENTURY
Meet Tower Hill Station by Trinity Square Gardens (Circle & District line)
Samuel Pepys witnessed  the execution of Charles 1st, Civil War, Restoration, Plague and The Great Fire of London. This walk reveals the man behind the Diaries
9.MAYFAIR
Meet Green Park Station (Stratton Street exit)  (Jubilee & Victoria Lines)
Forget the hotels, embassies and blue plaques. We'll discover dodgy priests, corrupt MP's and Napoleon's penis. No kidding.
10.FLEET STREET
Meet St Pauls Underground by Cafe Nero (Central Line)
The journalists have gone but their ghosts remain as we discover the history and characters  in the street of  Ink
11.STEPNEY
Meet Stepney Green Station (District & Hammersmith and City)
Despite post war reconstruction and gentrification this tour still manages to uncover the spirit and culture among the architecture and personalities of this archetypal East End quarter.
12. THE CITY LIVERY COMPANIES
Meet St Pauls underground by Cafe Nero (Central Line)
There are 110 City Livery Companies, the oldest chartered in 1155 and the most recent created in 2014. On this walk we will hear how the craft guilds evolved into the the power houses of the Square Mile as we pass by a selection of their halls.
13.MONASTERY'S MERCHANTS AND MARKETS
Meet Tower Hill Underground by Trinity Square Gardens (Circle & District line)
The Medieval City revealed through the stories of the conflicting powers of religion and trade.
14.LEGAL LONDON
Meet Holborn Tube (Kingsway exit)  (Central & Piccadilly Line)
Not only Gray's Inn, Lincoln's Inn and The Royal Courts of Justice but some unsavoury episodes that bypassed the law. Throw a couple of Dickens connections and discover why lawyers weren't everybody's favourite professionals
15.HAMPSTEAD VILLAGE
Meet Hampstead Tube 11am  (Northern Line)
Lots of steep hills and steps to climb as we roam around the back streets. It's rumoured there's a home here where no one famous lives
16.ISLINGTON
Meet Angel Tube by Royal Bank of Scotland 11am  (Northern Line)
An eclectic mix of stories arise from this stroll around the quieter streets of The Angel
17. ROMAN LONDON
Meet Monument Tube 11am ( Circle & District )
Londinium lies 18 feet below the current City Streets but if you bring along your imagination we can discover the story of 400 years of Roman rule.
18. QUEENS, CONSORTS AND CONCUBINES
Meet St Pauls Underground by Cafe Nero 11am (Central Line)
Surprisingly the medieval queens have left their mark on the square mile. Their stories and the landmarks associated with them are told on this walk.
19.MARYLEBONE
Meet Marylebone Station by Underground ticket office  (Bakerloo Line)
Two sieges, Mandy Rice Davies, Edward and Mrs Simpson and The Beatles. All in Streets you may not have known existed.
20.THE PLEASURE GARDENS OF CLERKENWELL
Meet Angel Underground by Royal Bank of Scotland (Northern Line)
New Tunbridge Wells, London Spa, Busby's Folly are just a few that competed with Mr Sadler's well. This tour tracks down the most important, throws in some secret gardens and reveals the less well known side of Clerkenwell
21. CITY STREET ART
Meet St Pauls underground by Cafe Nero (Central Line)
Around every corner of The City there's either a sculpture, monument or building frieze that is missed by most who are too busy to look up. Let me open your eyes to a surprising selection
22.BLOOMSBURY
Meet Russell Square Station (Piccadilly)
Not the world of Virginia Woolf but a more eclectic assortment of buildings and stories. We meet Peter Pan, Mary Ward, Kenneth Williams and Stella & Fanny. Enough? Ok you can have DH Lollipop.
23.STOKE NEWINGTON
Meet Stoke Newington Overground station (London Overground from Liverpool Street)
Abney Park, Daniel Defoe, some remarkable architecture and an area rich in history
24,WREN'S CITY CHURCHES
Meet St Paul's Underground by Cafe Nero  (Central Line)
An opportunity to visit a selection of late 17th century baroque churches that were the first to be designed for Anglican Worship
25. LET'S ALL GO DOWN THE STRAND
Meet Embankment Station (Villiers Street exit) (Circle, District, Northern and Bakerloo lines).
Hear about the grand palaces that lined The Strand and and their later developments including The Adelphi, Somerset House, and Savoy. Also included a selection of statues in Embankment Gardens.
26. THE DARK SIDE OF THE CITY
Meet St Pauls Underground by Cafe Nero (Central Line)
This  stroll through the dusky City unearths ghost stories, crimes and horrors. Not suitable for the feint hearted.
27.WOMEN FIRST IN THE CITY
Meet St Pauls Underground by Cafe Nero (Central Line)
One thinks of The City as a male bastion but we will discover a dozen women who have made their mark on the square mile in one way or another.
28.BISHOPSGATE
Meet Liverpool Street Station (Liverpool Street Exit  by McDonald's )  (Central, Circle, Hammersmith & City and Metropolitan Line)
Through Street Art we travel The Universe on this tour of Broadgate and surrounding areas
29.FITZROVIA
Meet Goodge Street Station (Northern Line)
Tacky Bohemia meets Classic Georgian Architecture on this walk. Throw in some remarkable characters and we bring to life this overlooked area.
30.GEORGIAN LONDON
Meet Bank Station by Royal Exchange Exit 3. (Central, Northern, Waterloo and City, Docklands Light Railway, plus Circle & District via Monument)
Georgian London evokes visions of grand architecture in the West End but the City was the Heart of the Empire. This walk uncovers buildings and stories of the period that may surprise you.
31.HACKNEY CENTRAL
Meet Hackney Central Station. (Access via Hackney downs station platform 1 then walkway to Hackney Central
A circular walk discovering Medieval Church Tower, a Tudor House, Georgian Squares, Unique Social Housing, The first Great Nurseryman and "Ackney Empire.
32. SOUTH HACKNEY
33. COPENHAGEN FIELDS
34.SEVEN DIALS & ST GILES
35 BETHNAL GREEN
36. KENTISH TOWN
37. ROTHERHITHE
38. BOROUGH
39. SOMERS TOWN
40. KINGS CROSS
41. BERMONDSEY
42. GOODMANS FIELDS
43.HOXTON
44. PIMLICO
45 MAIDA VALE
46. LITTLE VENICE
47 SMITHFIELD AND CHARTERHOUSE
48 SHADWELL & ST GEORGES
49. HATTON GARDEN
50. CHAUCERS LONDON
51, SHAKESPEARE IN THE CITY
52. IN THE SHADOW OF THE ABBEY (WESTMINSTER)
53. LIMEHOUSE